Halton Carers Centre's Lottery was launched December 2017. Our Carers Lottery is an opportunity for you to help us raise money for carers and have a chance of winning a cash prize!
Halton Carers Centre currently supports over 5000 unpaid carers, of whom 700 are young carers who care for someone with an illness, disability, mental or physical health problem or a substance abuse problem and live in Halton. Many carers face issues including isolation, low confidence and poor health due to their caring role.
Halton Carers Centre provides a range of services to enable carers to have a life of their own in addition to their caring role. Our services include one to one support, information and advice, holistic therapy and podiatry treatments, breaks and training. Anyone can join the lottery as long as you are over 16 years of age and you may enter more than once at a cost of £5 for each number entered.
The lottery will be drawn on the 20th of each month via random number generation.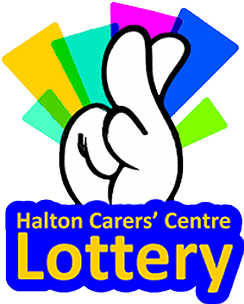 Winners will be notified by post or e mail and a list of winners will be available from the Carers Centre. The more people who enter, the more funds we are able to raise and the bigger the monthly prizes will be! All profits from the lottery will go to Halton Carers Centre, which is a registered Charity.
If you wish to enter please give us a call at the centre or drop in.